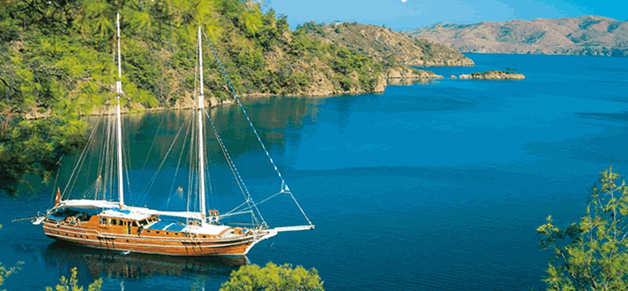 The Blue Voyage is a sailing / motoring cruise on any stretch of the cleanest waters in the world between Bodrum to Antalya, where deep blue mingles with the green of the evergreen forest covered coastline. Ancient cities such as Knidos, Kaunos, Telmessos, Antiphellos, Myra, Olympos, Phaselis and the rock-tombs in the Lycian cities are there for your exploration if requested and your yacht could be sailing through from the antique regions of Karia, the Lycian and then on to the Pamphylia region. Everyday a new cove, a new bay to be explored. Endless natural beauty and history are enjoyed whilst cruising under the Mediterranean sun.
As the Mediterranean coastline of Turkey is a treasure-chest of coves, inlets, bays and beaches, yachtsmen can easily choose a different and private anchorage each night. For lovers of the active life, sailing in the clear waters provides great opportunities for swimming, fishing, water skiing, wind surfing and diving.
It also allows you to experience a truly enriching cultural exchange with the hospitable and gracious people of the coastal villages and towns. The tempered winds which generally blow from the west and northwest make the long summers ideal for the blue voyage. From some of the turquoise coast's unspoilt and sheltered bays you can see mountain peaks rising to almost 3000 metres above sea level.
The pleasure of ''Blue Voyaging'' in Turkey will tempt you to return again and again, to explore yet another stretch of coast and to relieve the luxurious ease of life on the sea.
What is a Gulet ?
A gulet is an all wooden motor sailing yacht built for cruising the coasts in the calm warm waters of the Mediterranean. These yachts are built to center life on deck during the charter. Spacious decks and housing a large (usually) aft half mooned shaped dining and lounging area are their main features.
The number of passengers a gulet carries varies, according to size, between 8 and 16. On a 17 to 40 meter boat, that is quite a breathing space for each person considering that every passenger has private quarters and jointly used decks, saloons, etc. are quite spacious.
A gulet can best be compared to a small hotel afloat. There are double berths in each cabin and occasionally, upper bunks. Every cabin has its and shower. The crew sleeps and uses the facilities in their separate
Common quarters include a large saloon, a fully equipped galley commanded by a cook, lots of uncluttered deck space, sun mattresses strewn all over to laze on while tanning. Round sterned gulets have a mattress covered perch in the aft that is called a "pigeon's nest", the most comfortable place to lounge or nap on the boat, protected by awnings. Unlike a bareboat, which is often limited in water supply, a gulet offers the chance to wash off the salt after every swimming party, as it takes up to 3 tons of fresh water.